A book focused on the engineering and technology developed for the Hayabusa2 mission has been published in English by Elsevier. The book is not aimed at a general audience, but rather consists of a collection of technical papers discussing specialized topics. However, if you have a university-level knowledge of space engineering, you are likely to be able to understand the topics discussed.
In total, the book consists of 584 pages in 27 chapters. The table below shows the chapter titles and main authors. The total number of co-authors is just under 100. The contents cover an overview of the Hayabusa2 project, the spacecraft system, trajectory choices, the main equipment such as the engine and sample capsule, the lander and rovers, the details of the various operations such as descent, touchdown, the impact experiment, and Earth re-entry. In the last two chapters, the outreach activities and the Extended mission are also explained.
If you are interested in planetary exploration or space engineering in the future, or if you are not satisfied with the articles released in our outreach program or in the media, then do consider this book. From this volume, we think you will be able to obtain information on how Hayabusa2 was devised, and what the spacecraft actually performed.
The book was authored by the people who designed and operated Hayabusa2, so the contents is written objectively, but there are also place where the love for Hayabusa2 shines through. It may be interesting to look out for such expression while reading the book!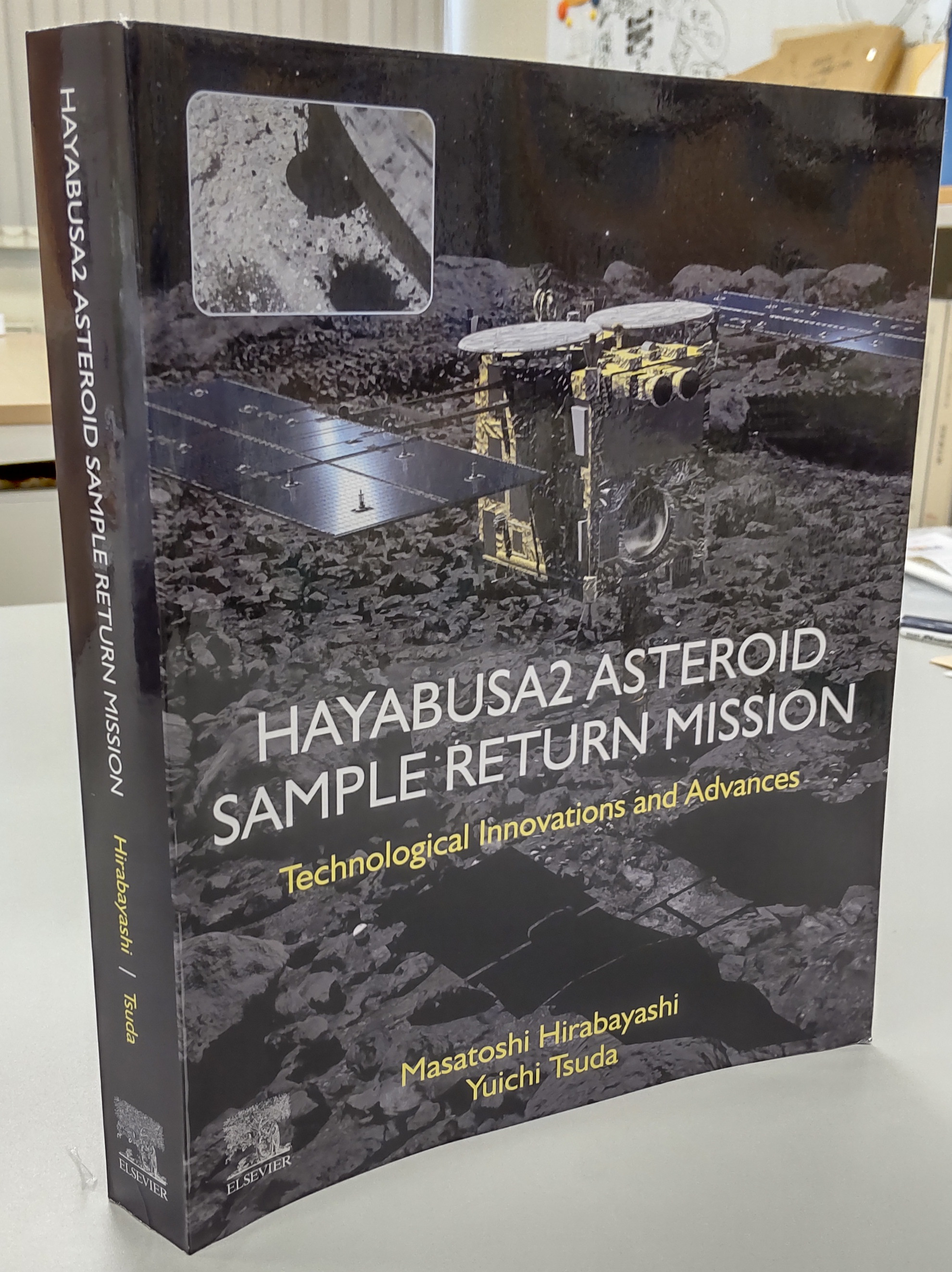 HAYABUSA2 ASTEROID SAMPLE RETURN MISSION
Technological Innovations and Advances
Edited by Masatoshi Hirabayashi and Yuichi Tsuda
Copyright © 2022 Elsevier Inc. All rights reserved.
ISBN: 978-0-323-99731-7


| Chapter | | Title / authors |
| --- | --- | --- |
| 1 | Title | Hayabusa2 as the beginning of deep space sample return |
| 2 | Title | Mission objectives, planning, and achievements of Hayabusa2 |
| 3 | Title | Spacecraft system design of Hayabusa2 |
| 4 | Title | Earth-Ryugu round-trip trajectory design and operation result |
| 5 | Title | Orbit determination for Hayabusa2 |
| 6 | Title | Hayabusa2 reentry and recovery operations of the sample return capsule |
| 7 | Title | Overview of the Hayabusa2 asteroid proximity operations |
| 8 | Title | GNC design and results of Hayabusa2's initial remote sensing operations |
| 9 | Title | Controlled descent of Hayabusa2 to Ryugu |
| 10 | Title | Landing site selection for the Hayabusa2 mission: Pre-arrival training and post-arrival analyses |
| 11 | Title | MINERVA-II-1 A/B asteroid rover: Deployment and landing |
| 12 | Title | MASCOT lander release operation |
| 13 | Title | Superior solar conjunction phase: Design and operations |
| 14 | Title | Touchdown operation planning, design, and results |
| 15 | Title | Hayabusa2's kinetic impact experiment |
| 16 | Title | Orbiting experiment of artificial objects deployed from Hayabusa2 |
| 17 | Title | Target markers for image-based autonomous navigation |
| 18 | Title | Touchdown and sampling from asteroid Ryugu |
| 19 | Title | Hayabusa2 radio science investigation |
| 20 | Title | Ion engine system of Hayabusa2 |
| 21 | Title | Sensitivity degradation of optical navigation camera and attempts for dust removal |
| 22 | Title | Chemical propulsion system |
| 23 | Title | Telecommunication subsystem and newly introduced Ka-band performance of HAYABUSA2 asteroid sample return mission |
| 24 | Title | Hayabusa2 sample-return capsule: System description and re-entry flight |
| 25 | Title | Hardware-in-the-loop simulator and real-time operation training of Hayabusa2 |
| 26 | Title | Public relations and outreach from the Hayabusa2 project |
| 27 | Title | Extended mission of Hayabusa2 |
Hayabusa2# Project
2022.8.15