The re-entry capsule from Hayabusa2 included the memory chip on which was recorded the names, messages and illustrations sent by people from all over the world during the "Let's meet with Le Petit Prince! Million Campaign 2". We have now completed the search system to find your submissions.
Please access the search system from HERE.

1) If you submitted your details to JAXA:
An ID was issued to you from JAXA at the time of your submission. If you have this ID and enter this together with your name, your name, message and illustration will be displayed (messages and illustrations are displayed only if they were included in your campaign submission). If you registered as a group, you can also see the registration details of the group members.

If you do not recall your ID, you can search using your name. It is not compulsory to enter the year of birth or location, but this information can be used to locate your entry if they were registered. In this case where you are searching by name but without the ID, only your name will be displayed, and not messages, illustrations or group information. This is for the protection of personal information. Please note that we do not collect personally identifiable information, so we cannot respond to inquiries if your ID is lost.

2) If you submitted your details to The Planetary Society:

No ID has been issued in this case, so please search using your name. If you also registered your year of birth and country, those details may help to narrow your search in the situation where more than one person may share the same name.

After the search, you can download your "boarding pass". This proves that your name, message and/or illustration have travelled from the Earth to asteroid Ryugu and back. We hope you will enjoy this souvenir!

Ref. 1) Retrieving the memory chips
There were two memory chips embedded in a section of the re-entry capsule called the support ablator. Both chips contained the same files. These memory chips were removed on February 19, 2021. After taking them from the support ablator, we tried to read the contents of each chip and found that the files written on both chips could be read normally.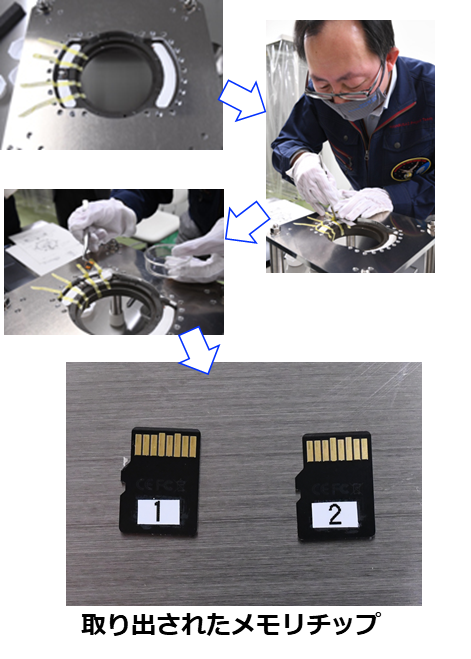 Ref. 2) The "Let's meet Le Petit Prince! Million Campaign 2"
From April 10 to August 9, 2013, we ran an event called "Let's meet Le Petit Prince! Million Campaign 2". Everyone was invited to send their names, messages, and illustrations to be included in the target markers and memory chips onboard Hayabusa2.
Hayabusa2 carried five target markers, all of which included a small sheet engraved with your names. During the mission, four of these target markers were dropped to the surface of asteroid Ryugu. If someone were to later visit Ryugu and discover a target marker and open it up, they could find the sheet with your name on it. In total, about 180,000 names are inside each target marker.
On the memory chip, the names of about 250,000 people are accompanied with the electronic file of messages and illustrations that were submitted.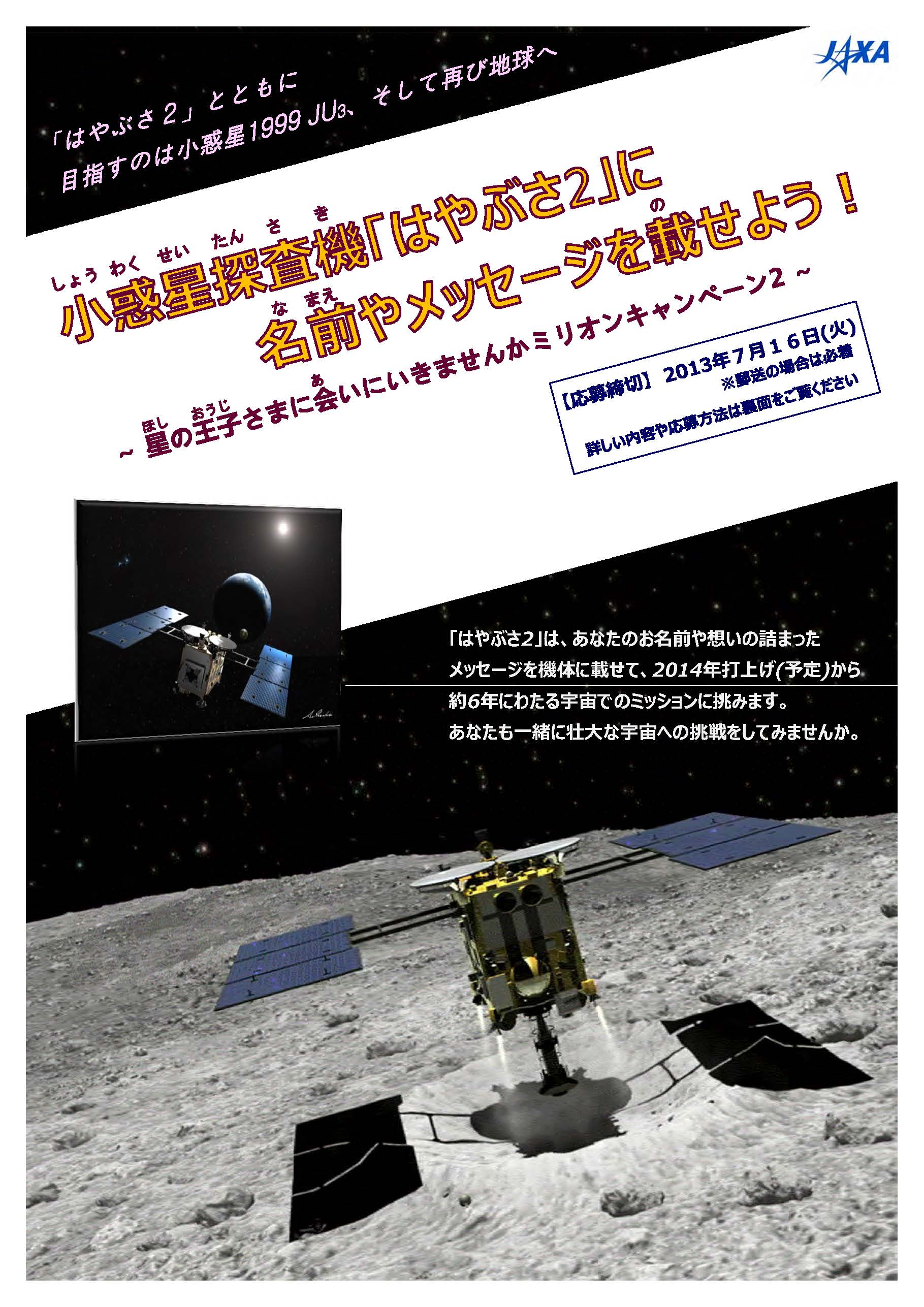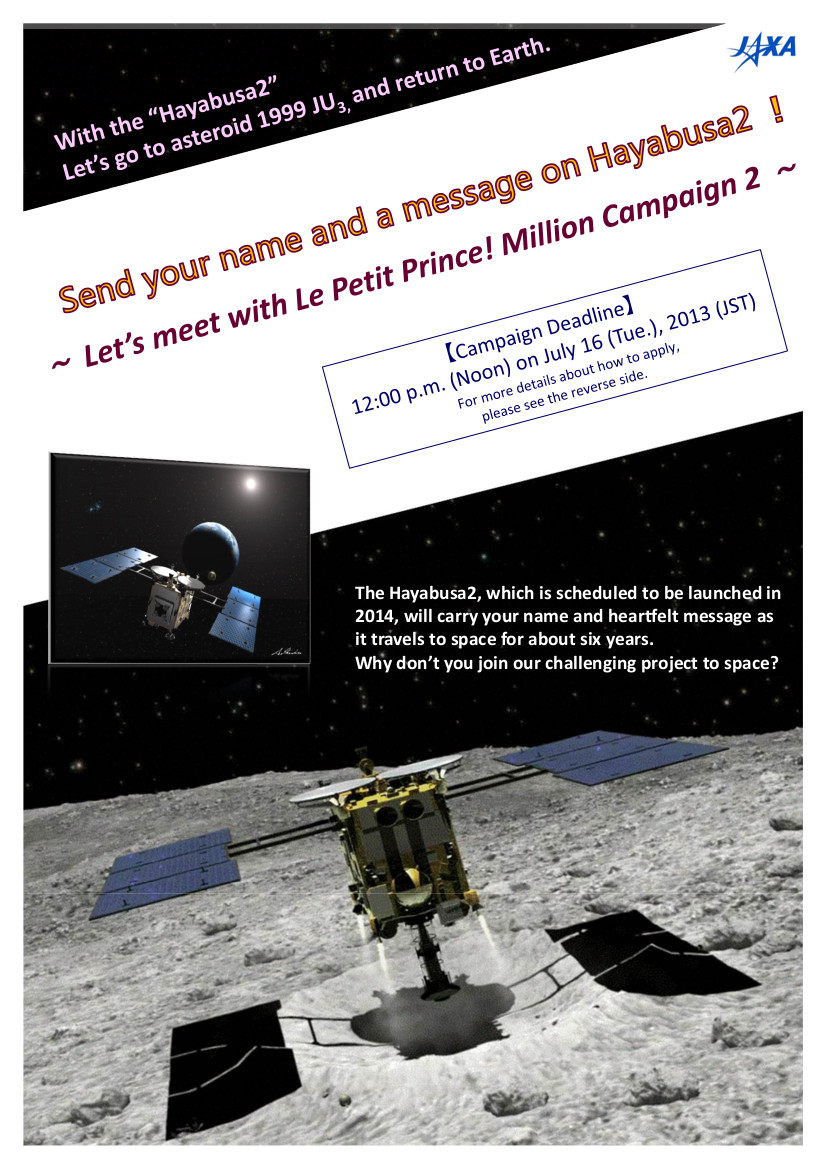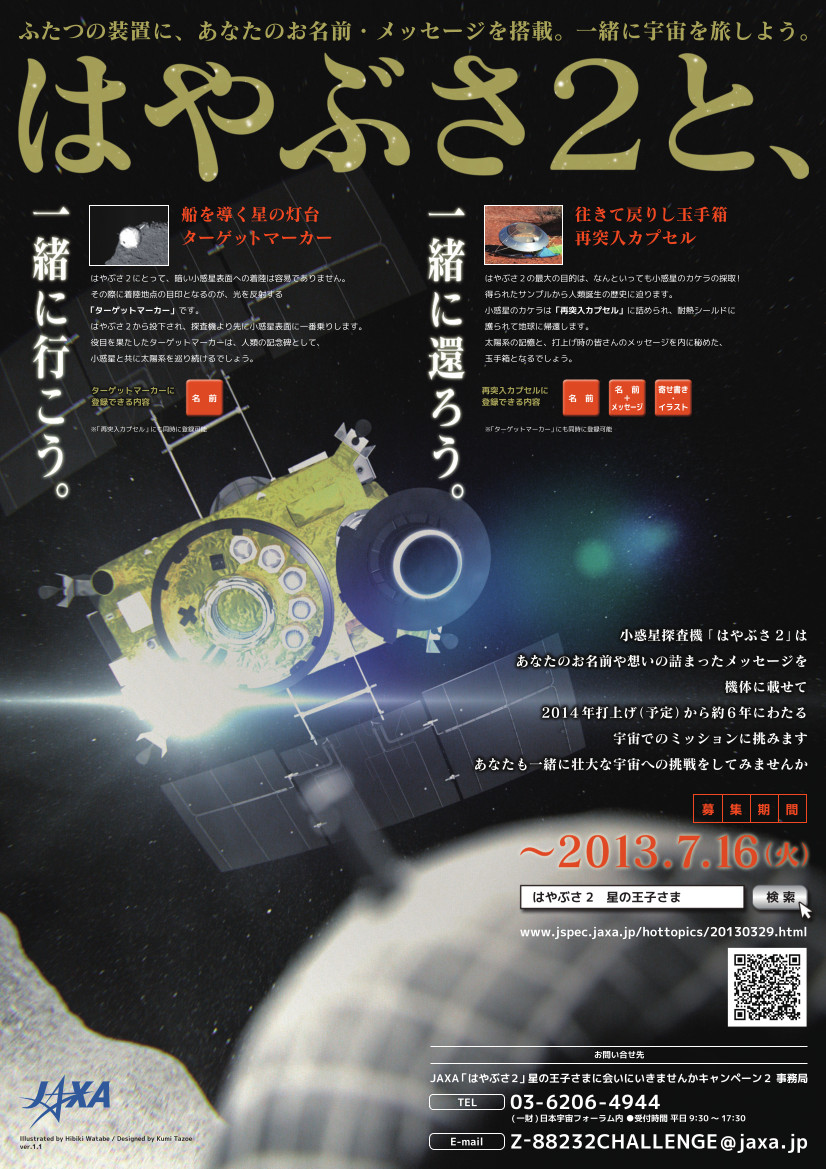 Hayabusa2 Project
2021/07/07